Welcome to 'Grower, Maker, Researcher - Wine Industry Insights' – a podcast from the Australian Society of Viticulture & Oenology, funded by Wine Australia through the Extension and Adoption program.
The podcasts take a very practical approach, talking to practitioners and researchers about current best practice and what changes to expect in the near future.
Hear from highly regarded growers winemakers and researchers in the Australian wine industry as they discuss best practice.
Subscribe now via your favourite podcast app or listen to individual episodes listed below.
| | | |
| --- | --- | --- |
| | | |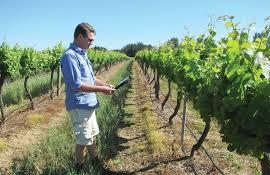 This podcasts look at yield assessment a topics close to the heart of many growers and winemakers because getting it right delivers great benefits – and the costs of getting them wrong can be huge. This information would allow growers to make accurate yield assessments based on five-year historical averages, and also to be a step ahead when non-human-based yield assessment systems are improved as they are expected to draw on accurate historical information.Louisa Rose, Chief Winemaker at Yalumba Family Winemakers and Dr Mark Whitty, Senior Lecturer in Mechatronics at the University of New South Wales.
links to further information
Final reports
Final project report DPI 1401 Improved yield prediction for the Australian wine industry with Chief Investigator Dr Mark Whitty
Final project report MQ 1401 Accura
Journal publications
Arturo Aquino, Borja Millan, Maria-Paz Diago, Javier Tardaguila, Automated early yield prediction in vineyards from on-the-go image acquisition, Computers and Electronics in Agriculture, V 144, January 2018, pp26–36
M de la Fuente, R Linares, P Baeza, C Miranda and J.R. Lissarrague, Comparison of different methods of grapevine yield prediction in the time window between fruitset and veraison, OENO One. 49, 1 (Mar. 2015), pp27–35. doi.org/10.20870/oeno-one.2015.49.1.96
C´ecile Laurent, Baptiste Oger, James Arnold Taylor, Thibaut Scholasch, Aurelie Metay, Bruno Tisseyre, A review of the issues, methods and perspectives for yield estimation, prediction and forecasting in viticulture, European Journal of Agronomy 130 (2021) 126339
S Nuske, S. Achar, T. Bates, S. Narasimhan and S. Singh, Yield estimation in vineyards by visual grape detection, 2011 IEEE/RSJ International Conference on Intelligent Robots and Systems, 2011, pp. 2352-2358, doi: 10.1109/IROS.2011.6095069
The podcasts looks at irrigation efficiency and explains the importance of system maintenance and how using data from weather stations, soil moisture probes or plant sensors can reduce water use by 40–75 per cent without affecting yield or quality. 
Kristy Bartrop, Viticulture Technical Manager at Casella Family Brands and Dr Vinay Pagay, Senior Lecturer in Viticulture at the University of Adelaide
Articles
RD&A News article on Wine Australia-funded project on optimising irrigation scheduling with Dr Vinay Pagay The Science of matching crop irrigation to actual water use
RD&A News article on Wine Australia-funded project with Dr Mike McCarthy Surface irrigation remains the best option
RD&A News article on Wine Australia-funded project with Dr Marcos Bonada Keep up the water during winter
Current projects
SAR 1701-2.1 Climate adaptation: developing irrigation strategies to combat dry winters with Chief Investigator Dr Paul Petrie
UA 1803-1.3 Plant sensor-based precision irrigation for improved vineyard water use efficiency, grape and wine composition and quality, and vineyard profitability with Chief Investigator Dr Vinay Pagay
Final projects
Final project report SAR 1302 Managing the impacts of climate change rainfall decline on vine balance and root activity
Journal publications
Deepak Gautam, Bertram Ostendorf and Vinay Pagay, Estimation of grapevine crop coefficient using a multispectral camera on an unmanned aerial vehicle, Remote Sensing 13, no. 13: 2639. doi.org/10.3390/rs13132639
Deepak Gautam and Vinay Pagay, A review of current and potential applications of remote sensing to study the water status of horticultural crops, Agronomy, 2020, 10(1) 140 doi.org/10.3390/agronomy10010140
Matthew J Knowling, Bree Bennett, Bertram Ostendorf, Seth Westra, Rob R Walker, Anne Pellegrino, Everard J Edwards, Cassandra Collins, Vinay Pagay and Dylan Grigg, Bridging the gap between data and decisions: a review of process-based models of viticulture, Agricultural Systems, Volume 193, October 2021, 103209
Water management resources
The AWRI has a wide range of water management resources – including fact sheets, articles and webinars – to help growers to use their water most effectively, achieving yield and quality targets.
What will my region's climate look like in the future?
A three-year project with the University of Tasmania brought together an extensive, multi-disciplinary research team to consider the impact of seasonal climate variability and longer-term climate trends on the wine sector in Australia.It has generated the finest available climate projections for Australia's wine regions and provided detailed information about how the climate may change in the near, mid and long-term time horizons (out to 2100). This information has been incorporated into the Australia's Wine Future: A Climate Atlas, a free online resource of climate information for all Australian Geographic Indications (GIs).The atlas helps to answer the question – what will my region's climate look like in the future? This is essential knowledge for making good management decisions, based on decadal changes, and supporting strategic decisions over the longer term, both within and between regions.Tailored climate indices were calculated for every Australian Geographical Indication and include:
temperature – growing season temperature (GST); growing degree days (GDD)
rainfall and evaporative demand – annual, monthly and seasonal rainfall; growing season rainfall; number of rainy days during harvest; annual, monthly and seasonal aridity; number of dry spells before harvest
heat extremes – extreme heat factor (EHF) during a heatwave; heatwave duration and intensity; number of days per year exceeding temperature thresholds; frequency of days with high human heat stress; and
cold extremes – number of days at risk of frost during the growing season; daily minimum temperature; annual chilling degree days; number of days per year temperature falls below temperature thresholds.
Further information on the project itself can be found here.