2020 marks the 40th anniversary of the Society's begining. The Society's first official meeting was in October 1980. Since then the ASVO has evolved in response to the industry's growth through successive phases of industry restructuring. Throughout its 40-year history, the Society has kept industry members informed of new developments in practice, products and services, through a combination of seminars, major industry networking events, and the publication of newsletters and the Australian Journal of Grape and Wine Research. There have been many changes in the industry and within the Society itself over that period, with many people that have contributed to the Society's daily operations and events.
My member number was 72, I recall registering my interest at a wine industry forum held in Tanunda in the  Barossa Valley, I think during the 2nd Wine industry Technical Conference held there in 1973. This was during my time as winemaker/manager of Basedows (1972 – 1977). I have a professional membership certificate dated 14th September 1981, signed by Mark Babidge (President) and Brian Croser (Secretary – Treasurer).
I began my career in 1964 as a cellar hand at the Houghton Winery in Western Australia working under Jack Mann. I feel truly lucky to have started my wine journey at a time when the Australian wine industry was in a period of major change from fortified to table wine.
In 1964 there were 100 wineries in Australia, processing a little less than 200,000 tons. The industry was around 80% fortified wine and the 4 major varieties were in order, Muscat Gordo Blanco, Grenache, Doradillo and Sultana and in tonnage terms they represented nearly 60% of the industry. Today, table wines reign supreme and Australia has become a highly recognised producer of world renowned table and sparkling wines, while continuing to produce a relatively small but very  highly regarded range of fortified wines.
This quality focussed, technological growth, is due in no small way to the foresight and dedication of the ASVO and its members.
I had ambitions of entering Roseworthy College as an industry student, Jack Mann was most supportive in encouraging me to move to South Australia to pursue that aim and in 1968 I travelled via motorbike and train to South Australia. There began a whirlwind of experience.
Within two weeks of arriving in Adelaide I met Doug Collett who, at the time, was  with B.I.C.E a winery/engineering firm and  I owe him a debt of gratitude for his advice and assistance during my first 3 years in SA. I spent a hectic 1969 and 1970 working vintages at Seaview and d'Arenberg at McLaren Vale, Redman in Coonawarra and Tullochs in the Hunter. With Doug Collett's support, in 1971 I became assistant winemaker at Renmark Growers Distillery and in 1972 was offered the job of manager/winemaker for Basedows in Tanunda.
I never did get to Roseworthy College, but managed to keep abreast of technologies by attending regular seminars run by the AWRI and liaising with other wine makers. When the idea of a society (ASVO) was first mooted it seemed to be an ideal answer for people like me, with industry experience but little or no formal qualifications.
While at Basedows I began advising John Tate (Evans & Tate) whom I'd met in 1969, when working for Owen Redman in Coonawarra and from 1972 to 1977 assisted John, by 'phone, letter and the occasional visit to the west. During this time I encouraged Evans & Tate to purchase land in Margaret River, which they did in 1974. In 1978 I returned to WA to become full time winemaker/manager at Evans & Tate (1978 – 1992).
This coincided with an amazing period of growth, both in the volume and quality, of Australian wine. The ASVO was and remains invaluable in providing all industry personnel, especially those of us in distant WA, a way of easily keeping in touch with evolving technologies in viticulture and winemaking throughout Australia.
I guess I was more a user of the ASVO rather than a contributor. I did however, attend many Wine Industry Technical Conferences and contributed a paper on "New Semillon Styles" at an ASVO seminar in Canberra in November 1991. Interestingly the Evans & Tate 1991 Semillon ("new style"), a partially barrel fermented wine, achieved top gold in its class at the National Wine show the following day, only to be beaten for a trophy by a 1970 Lindeman Chablis ("old style") – hard to better a 21 year old Hunter Semillon from a great white wine vintage – I re-presented the paper in 1992 at a forum in WA.
I've remained in WA and after 8 vintages as Senior winemaker at Sandalford (1993 – 2000), have been self-employed, consulting and contract winemaking within WA.
The ASVO, with its focus on the technology of viticulture and winemaking, has played a significant role in improving the breed. From its humble beginnings all those years ago, the ASVO can hold its collective head proud, for its remarkable and continuing contribution to what Australian wine is and how that wine is perceived in the world today.
I am very proud to say that I am member number 25 of the ASVO. Like my father, I have always believed in the importance of research and information sharing to propel our wonderful industry forward on the global stage. When my father graduated from Roseworthy Agricultural Collage in 1947, there was very little information available in English, forcing he and his counterparts to band together and share their knowledge. He was a great advocate for the AWRI which was formed three years after he graduated. I found myself in a similar position in 1979 when I commenced my Oenology studies. There were few text books written by Southern Hemisphere authors and books by Winkler, Amerine etc. were seen as bibles for us students. I craved more information, so when the ASVO was formed in 1980, I could see that it was a wonderful foundation for building knowledge and immediately applied for membership. Outside of paying my subscription, supporting research and technology and championing Australian wine around the world, my involvement in the society has been limited. I am, however, incredibly grateful to all of those who have driven the society forward and made it the outstanding institution it is today. The vision and foresight of those founding members, 40 years ago, is certainly recognised today and our society should feel proud that the rest of the world is now reading our journals.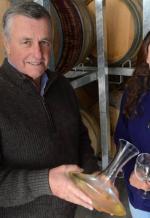 PRESIDENT ASVO 1991 – 1992
Looking back across four decades of Australia's resilient wine industry is a salutary exercise. In many ways not a great deal has changed since I first joined the ASVO in 1983 on my return from studying at UC Davis. Later I joined the executive, my tenure leading to being elected to the president's role in 1991.
At the time the industry was experiencing surplus premium grape supply conditions, a fortuitous excess that was strategically diverted into export markets by lateral thinking (and in some cases gallant) winemakers, notably to the UK and USA. It was a boom time for outward looking winemakers. Australia's premium wines were in demand from London to Manhattan. Our winemakers told good yarns, their wines excited and impressed.
Our winemaking and viticulture was considered cutting edge, in part thanks to many technical seminars organised by the ASVO where vital technical information was shared and adopted by many members.
At the time the ASVO moved to a national orientation in its delivery of industry seminars, implemented in regional grape centres. The ASVO was a partner of the Co-operative Research Centre for Viticulture (CRCV) where I was a program leader. In this period the ASVO hosted quadrennial technical conferences with the AWRI.
My endeavours at the time were strongly supported by two valuable mentors, Dr. Terry Lee and the late Ron Potter, and their legacy lives on.
After a decade as the wine professor at Charles Sturt University my industry contribution and focus turned in 1999 to the NSW Hilltops region where my viticultural pursuits now encompass a 200-hectare vineyard and 500-tonne winery, the backdrop to my passion for Italian origin varieties.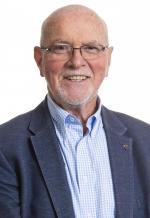 Having become a member (Member Number: 145) in the foundation year, 1980, the ASVO has afforded me virtually a career- long array of opportunities to meet and engage with so many participants in our dynamic industry, establishing many enduring professional and personal friendships while also generating new ones.
The fortunes of the Society, at least in terms of member numbers, has largely tracked the fortunes of the wider industry, peaking in the late 1990s. However, no matter what the market situation, the ASVO continued to deliver its strategically important and highly relevant annual seminar series along with its key partnership role with The AWRI in the triennial AWITC. In parallel, it has also forged a globally significant reputation and influence via its Australian Journal of Grape and Wine Research.
Member recruitment and reenergising has and shall likely remain the key to the ongoing relevance and viability of the ASVO, with the scope for even more innovation and engagement via emerging communications platforms.
Long may the ASVO endure and continue to facilitate the professional standing and mentorship of its members
My Membership certificate notes that I was accepted as Professional Member on the 18th March 1981. It is signed by President Mark Babidge and Secretary/Treasurer Brian Croser. I was a Foundation Member of the now defunct Australian Society of Wine Educators; Certificate Number 79 signed by DKW Perry, President and BC Rankine, Executive Director in June 1991. I guess we can all have input into how our World has changed from the 1980's to now. My interest in the wine industry goes back into the 60's and so much has changed including;
The size, value and nature of the industry. Table wine production dominates wine production nowadays; back then fortified wines were to the fore.
The export of branded bottled table wines was in its infancy in the 1980's and Australia was a very small player on the World stage.
We are now major players.The science and technology developed and employed by the wine industry has changed dramatically. The ASVO and its members have played a major role in research, development, extension and adoption of new technologies.
The role and importance of viticulture and regional influences have received appropriate recognition.
Government Policy as applied to the wine industry has changed with respect to taxation, research funding, social policy, label integrity etc.
Industry organisations and associations have proliferated and matured to play a more important role in industry at a regional, State and national level.
Retailing, wholesaling and export of wine has become more sophisticated, in many cases more concentrated (supermarkets) and always more competitive. Product differentiation has become essential.
The Society, once established, embraced its role as the industry's professional body. It successfully conducted informative and relevant industry events delivering up to date information that practitioners could apply to their businesses.
ASVO events were held in high regard right from the start and they were able to attract delegates and speakers from all around the country and from overseas. The publications resulting from the seminars etc. were like Bibles. I still have many of them on my bookshelf.
Being an active member of the ASVO was most helpful in my decision making as a member (for 3 terms) on the Grape and Wine Research and Development Corporation. I was a strong supporter of ASVO (and the AWRI) and what each provided to the industry. My introduction to the 2nd Australian Wine Industry Technical Conference in Tanunda in 1973 offered a whole new vision of the wine industry from both a local and international perspective. I had the privilege of speaking at the 4th AWITC in Albury in 1977 and was on the Planning  Committee and chaired a Forum at the 8th AWITC held in Melbourne in 1992.
I was proud to be on the Planning Committee of the 5th AWITC held at the University of Western Australia between the 29th November and the 1st December 1983. I did try very hard to convince the industry to bring this Conference to Perth. It was the only time it has been held in WA. The Conference was very successful as were the post Conference Tours offering delegates an early look at what has now become one of the premium wine regions of the World; the South West of Western Australia. The Conference Opening was ushered in by a recording of Men at Work's Land Downunder with a very large Boxing Kangaroo flag adorning the stage. Australia (WA) had won the America's Cup!!
It has been a wonderful time to be in the Australian wine industry as it was energetic and innovative – it wanted to make a statement to the World of wine. I was most fortunate to be in the presence of innovative and energetic people who have certainly made it happen.
The ASVO and its members have made a major contribution.
 I joined the Australian wine industry formally in February 1972 as an Agricultural Science graduate from the University of Adelaide. In June 1972, my employers, Hardys Wines, sponsored me to undertake the Diplome National d'Oenologue at the Universite de Bordeaux. In early 1974, I recommenced work at Hardys Tintara Cellars in McLaren Vale. In early 1977, I moved to Western Australia to take up a winemaking role with Valencia Vineyards/Houghton Wines which took up the next 6 years of my life.
 
                During the 1970s, in the absence of a professional association for viticultural and wine professionals, many of us became Associates of the Australian Institute of Food Science and Technology (AIFST). This was quite an active group that provided us with a platform to keep up to date and share technical knowledge in our field. There was, in fact, an informal 'wine chapter' which developed within AIFST.
 
                In the late 1970s, Mark Babidge, of the cooperage family and, at that time, running Tooheys/Seaview/Glenloth/Wynns, floated the idea that the Australian wine industry should have a professional technical association along the lines of the American Society of Viticulture and Enology. I do not remember the forum in which he first promulgated this idea (it might have been the 1980 Tech Conference), but he was certainly supported by the likes of Brian Croser, Tony Jordan, Terry Lee and others.
 
                Although I was still based in WA (until the end of 1982), I, too, was very supportive of this idea and I think that I became a founding member in 1980. I do not remember the early years particularly well, but I do remember that ASVO was very present and much talked about at the 1983 Tech Conference in WA which I attended only months after moving back to SA.
 
                My memory is not great, but I think that I joined the Committee of ASVO quite early on and I may even have taken on the Secretary or Treasurer role in the mid 1980s. In 1988, I think, I was nominated as a candidate for President of ASVO and, after success at the ballot, I became the 4th? President of the Society. Again, my memory of the big issues which we addressed during my time as President has faded, but the joint staging of the 7th Australian Wine Industry Technical Conference with AWRI in 1989 and the formative actions to bring the Australian Journal of Grape and Wine Research into being still resonate. If only I could have tracked down the committee minutes from those days, how much easier would this task of recalling have been.
 
                I also have a recollection that I may not have completed my second year as President as I was moved to France by my employers to help set up, and ultimately run, Domaine de la Baume, in the Languedoc-Roussillon from June 1990. I think that I had to write a letter of resignation a few months short of the end of my Presidential term.  I did not return to Australia until the end of 1994, but I did have the honour of returning to Australia and presenting a scene-setting paper on "Managing Wine Composition" at the 8th Australian Wine Industry Technical Conference in Melbourne in 1992.